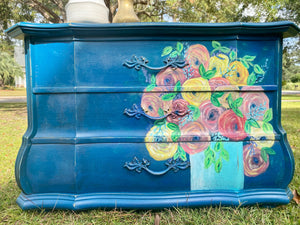 SOLD! HANDPAINTED FLORAL 3-DRAWER CHEST, DRESSER, ACCENT PIECE
I have said it before, and I am going to say it again...THIS IS BY FAR MY FAVORITE PIECE I HAVE PAINTED YET! This solid wood Thomasville chest was so much fun to paint with layers of blended Daydream Apothecary paint available HERE and a hand painted floral arrangement. Includes three large drawers with gorgeous, dovetailed joints. This piece is solid wood with a one-of-a-kind hand painted finish that has been sealed x 3 for added durability. This stunning piece of furniture would be great for use in a bedroom or even accent piece in your living room, entry or hall.  Colorful yet versatile and functional...can it get any better than that?!

Dimensions: 
Height - 2 feet, 3 inches
Depth - 1 foot, 6.25 inches
Width - 3 feet, 6 inches
Payments
Full payment due before items are shipped.
Shipping from the United States (please contact for custom shipping quote, not reflected in price shown)
Door to door delivery available to most U.S. states.
Refunds
All sales are final.