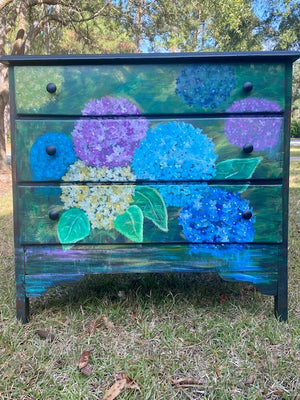 SOLD Hydrangea 3-Drawer Solid Wood Dresser
Hydrangeas are my all-time favorite flower so I decided to add some floral accents to this piece.  This solid wood 3-drawer dresser was so much fun to paint with layers of blended Daydream Apothecary paint as well as high quality artist-grade acrylic paint.  I love when I stumble upon solid wood vintage pieces that just need a little bit of love.  I would love to know the age of this piece as it is definitely an oldie with the drawers being constructed using nails that are visible, as shown in the pics.  Please take note that this is an older treasure so it comes with some added character marks.  The drawer sliders are solid wood as well and have worn down a bit from years of love, which does not affect the drawers from opening and closing with ease. This piece is solid wood with a one-of-a-kind hand painted finish that has been sealed x 3 for added durability. This stunning piece of furniture would be great for use in a bedroom or even accent piece in your living room, entry or hall.  Colorful art yet versatile and functional...can it get any better than that?!

Dimensions: 
Height - 33 inches
Depth - 18 inches
Width - 34.5 inches
Local pick up available (Summerville, SC) with a discounted price from listing as list price includes shipping.
Payments
Full payment due before items are shipped.
Shipping available to U.S. Residents only.  Excludes Hawaii and Alaska (please contact if from these states to work out special arrangements)
Door to door delivery available to most U.S. states.
Refunds
All sales are final.
Layaway is available on certain items.  Please email for details. Thank you.

DELIVERY
Please note estimated time to leave our studio is 1-2 weeks. This can slightly vary depending on the delivery companies' schedule.  It typically takes 3-4 weeks to deliver to your home from date of purchase.  Please email us with additional questions we will gladly answer them.

Please follow us on Facebook for sneak peaks on new items, tutorials and more!
https://www.facebook.com/RusticChicColor


Thank you so much!  We are very grateful for your business and taking the time to view our items.